This site is a tribute to my father, Peter Halkias, who passed away at age 69 on December 31, 1991, born in Canton, OH and served in combat in Europe from Omaha Beach in Normandy to the Elbe River in Germany.  He served with Battery "B" of the 793rd Field Artillery Battalion of the XIX Corps Artillery and was awarded battle stars for participating in the battles for Normandy, Northern France, Rhineland, Ardennes Offensive (Battle of the Bulge),and Central Europe

793rd Field Artillery Battalion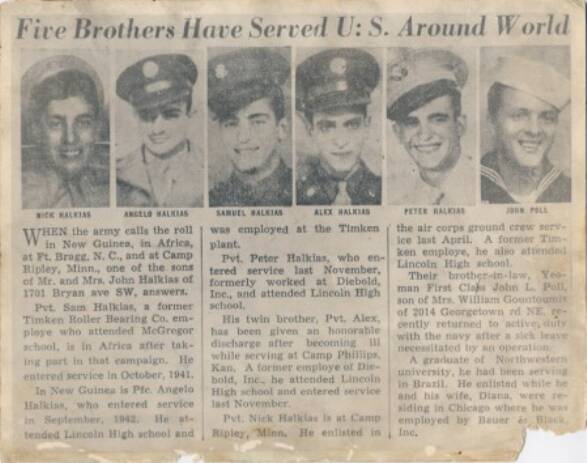 The above article and picture ran in the local paper, The Canton Repository, after the war was over when 5 brothers and one brother-in-law returned home safe after serving around the world in different branches of the military.

All of the men in the above picture are no longer with us.



Special thanks goes out to Mr. Warren Jensen who served in the 793rd FA BN but in a different battery than my father. Without his help I would know very little about the pictures that my father had in his possesion  and the things that he went through. Mr. Jensen also introduced me to Mr Palmer Novetti who also served in the 793rd he has shared pictures with me that are placed on this site. I have spoken with both gentleman and have great respect and admiration for what they have been through.

Throughout this site you will find many photos and quotes that both have contributed.

May God Bless all our Veterans and Soldiers